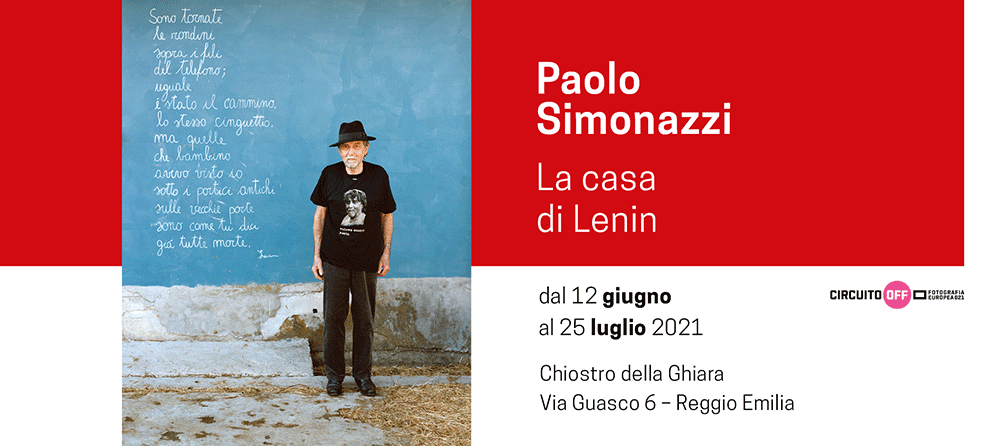 "La casa di Lenin" at Fotografia Europea OFF circuit, exhibition and photobook presentation
With "La casa di Lenin" ("The House of Lenin") Paolo Simonazzi pays tribute to the Reggio Emilia poet and farmer Lenin Montanari with a new photobook, to be presented on Friday 18 and Saturday 19 June, and an exhibition – part of Fotografia Europea 2021 Off circuit – at the Chiostro della Ghiara in Reggio Emilia, open to the public from June 12 to July 25.
The exhibition
From June 12 to July 25, "La casa di Lenin" curated by Sandro Parmiggiani will be on show at the Chiostro della Ghiara, in via Guasco 6, Reggio Emilia, as part of the Off circuit of Fotografia Europea 2021. The spaces of the Chiostro will always be accessible, every day of the week, and admission to the exhibition is free.
Book presentation
At the Chiostro della Ghiara, on Friday June 18  at 6 pm, there will be a presentation of the photographic volume "La casa di Lenin" (Gente di Fotografia Edizioni) at the presence of curator Sandro Parmiggiani and writer Claudio Gavioli, authors of the texts in the catalogue, and journalist Gigi Manfredi.
On Saturday June 19  at 12.30 p.m. the photographic book will also be presented at the Fotografia Europea Book Fair at the Chiostri di San Pietro, at the presence of Elena Montecchi and Antonella Monzoni.
A precious contribution by the director Alessandro Scillitani will further enrich this project.
The initiatives will be carried out guaranteeing distance and compliance with Covid19 prevention measures.
Info
The exhibition "La casa di Lenin" on Fotografia Europea 2021 Off circuit
"La casa di Lenin" Facebook Event